Family Dining at the Harbor in Santa Barbara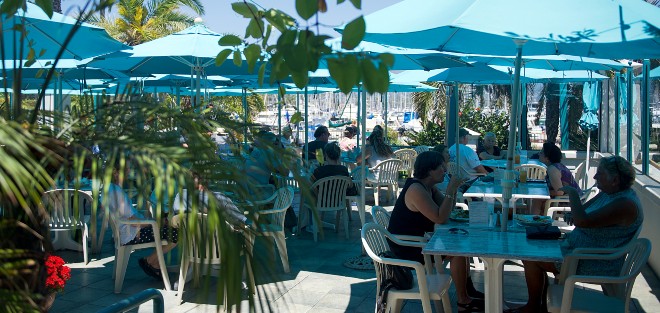 The Breakwater Restaurant is a longtime Santa Barbara Harbor "Favorite Breakfast" for locals & visitors from all over the world. Proudly serving great American style breakfasts, lunches and dinners. Enjoy the Breakwater's always-popular New England clam chowder, made from scratch in our own kitchen as well as the Breakwater's famous fish & chips and the freshly made hearty soups and salads. We offer "Catch of the Day" fresh fish and coconut shrimp. All these and more may be viewed in Our Menus.
A brief history of the Breakwater Restaurant
We began over 60 years ago humbly. The restaurant was started by a member of a local Santa Barbara fishing family. He wanted a place for the fishermen to be able to go and be fed before or after going out on their boats. The small restaurant became a gathering place where you could frequently find the fishermen getting together and sharing their catch.
The restaurant remained this way into the 70's. When the original owner decided to move on, another gentleman came in and ran the restaurant through the 90's. He expanded the building and turned the place into a restaurant for everyone. In the 90's is when Breakwater's award-winning Clam Chowder came into existence.
Then in 1998 the current owners, the DeDeckers, purchased the restaurant. They upgraded the interior to be more comfortable and welcoming. They added a raised patio, feeling that it would offer a more enjoyable dining experience as it allowed patrons a better view of the boats in the Santa Barbara harbor. As longtime restaurateurs they knew the value of quality food prepared consistently, competent service and value pricing. The restaurant has continued to operate with these qualities under their ownership. Happily having many long time employees, a few servers have been there over 18 years. You'll feel like you're among old friends.
Today, our 95-seat outdoor patio, complete with a handicapped accessible ramp, (also convenient for strollers) offers a great harbor view in a perfect setting. A casual atmosphere complements the tasteful, high quality menu, prepared and served especially for you by our friendly, professional staff at an affordable price for the whole family.
We're proud to be pet-friendly!
After you've enjoyed your meal with us, take an ice cream cone or a milkshake to go and discover the Santa Barbara Waterfront. Visit the beautiful Santa Barbara Harbor and Breakwater, home to California's Central Coast fishing fleet and over 1,000 pleasure and excursion boats. An abundance of sights and activities await you on the scenic waterfront as you walk in the footsteps of missionaries and conquistadors.
Whether dining inside or out on the patio, all of us here at the Breakwater look forward to seeing and serving you at our conveniently located restaurant at the Harbor in Santa Barbara.
Sincerely,
The Crew at the Breakwater Restaurant